Voices Together: Music therapy opens new doors | Local
6 min read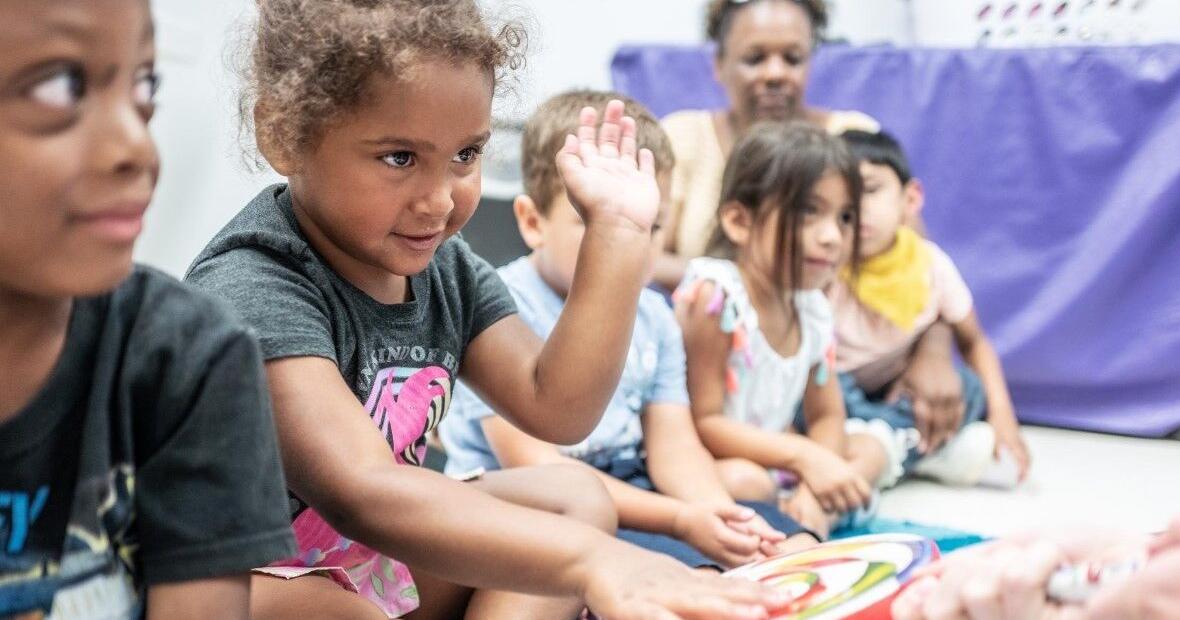 Cailyn Domecq
UNC Media Hub

Mackenzie Conner has the full attention of the eight Page High School teenagers sitting at their desks during this Friday morning class.
That's already impressive, but something bigger was going on.
Conner plays a hit song from TikTok off of her phone, "I Am Woman." She proposes a challenge for each student to use the phrase "I am…" and call out one of their strengths, specifically ones that might be helpful in the workplace.
One of them calls out "enthusiastic."
Then one answers with "confident."
Another pipes up and adds "vibrant."
These were just a few of the words that got scribbled on the whiteboard as students chose the order of their new lyrics, and Conner sang back the revised rendition to a karaoke beat as the list they made filled in the blank spaces of the verse.
"Oh yeah, that's good!" students said once they heard it all come together.
The session wrapped up with students planning to record it as they went along. Two volunteers for a rap duo were already eagerly penciled in by the time the bell rang.
A music lesson — but not in the traditional sense. These students were taking part in the magic of a Voices Together music therapy program, specifically a pre-employment transition services class offered for students with disabilities to help prepare for the transition from high school to post-graduation.
This is just one program the Chapel Hill-based nonprofit offers in a curriculum that covers anything from career training to early childhood language development. The organization focuses on those who are on the autism spectrum or otherwise neurodivergent, welcoming anyone aged 3 or older to participate.
What once was a startup therapy practice held in the living room of founder Yasmine White's home 17 years ago now spans across multiple cities in North Carolina. Through individual sessions, community groups, and programs in school district classrooms, Voices Together uses music as a form of therapy to encourage language improvement in clients.
Being stuck at home during the height of the pandemic did not stop these improvements — therapists found a way to continue making progress after adapting to an online experience in lieu of traditional in-person sessions.
White made it clear that regardless of the teaching mode, the goal is not to fix behaviors. Their approach is all about giving clients the tools they need to build self-confidence and be active members in their learning process.
"That to me is everything," White said. "It's the value of every human experience."
When engaged in music, the body releases neurotransmitters that perpetuate feel-good endorphins — this dispersal makes the brain more apt to learn and retain.
"That's the whole concept of using music in academics for social and emotional learning in music therapy because when people are engaged and they're feeling good, they're ready to learn," White said.
Their music therapy model encourages recognition of emotions and learning how to express those emotions in a healthy way. The left side of the brain is typically where language is processed and the right side of the brain is where music is more dominantly processed. Someone on the autism spectrum often processes language on the right side of their brain, leading to a natural connection between music and speech.
Music as a device for therapeutic growth can be helpful for a wide range of conditions including regeneration of rhythm in stroke patients or memory stimulation in people with Alzheimer's disease. Since it does not rely on verbal communication, music-based therapy can serve as a more helpful building block than traditional forms for those who struggle with language.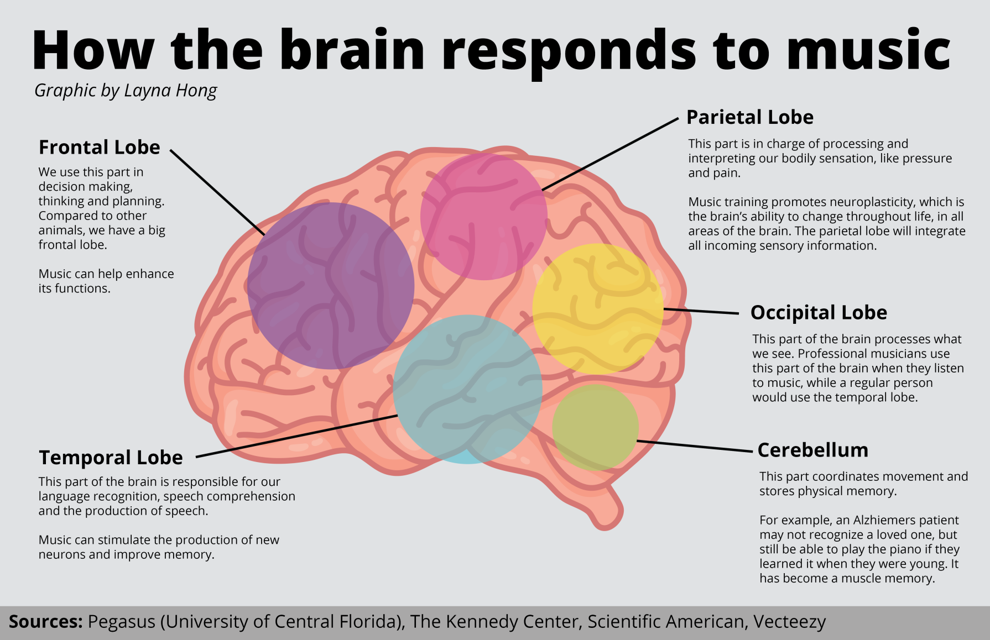 Children on the autism spectrum can have difficulty with verbal communication, and these patterns help encourage language development. One parent told White that the program started her son speaking.
"I just always remember that," White said. "What comes to me are the faces in the groups and the joy that music brings."
So, how did all of this start?
White described her path to creating Voices Together as a long and winding road. After spending her undergraduate years at the University of Maryland, she moved to New York City to start her career in music. But not in the way that it is a part of her life now.
"I started as a singer-songwriter and found that, you know, waitressing wasn't filling my soul," White said.
After spending some time with the city's music community, she was introduced to an organization centered on connecting musicians and other artists to health care facilities.
Before this, she never considered the intersection of working with people through music outside of a typical performance setting.
Seeing success
Music therapist Nicole Geiser worked with one student who only made non-word verbalizations when he first started the program.
After six months of teaching self-advocacy and learning how to say no, the student began to speak and use "no" as a response. His core curriculum teachers said it was through the program that he learned to advocate for his needs.
"I think it's so great that just an hour a week going over the very basics of how you speak up for yourself really translated into him actually saying some words," Geiser said.
White explained that more traditional types of therapy often organize their programs with the goal of getting a certain result, but the approach Voices Together uses creates a more organic learning environment that allows clients the freedom to address challenges in ways that make sense to them.
"We need to adjust as well and understand that people have their own perspective," White said. "That's part of a nondirective method … believing that each individual has their perspective and that perspective is part of the process."
Studies have shown that music therapy has resulted in greater changes as compared to standard consultations participants in the study had experienced previously. These improvements regarded children on the autism spectrum with respect to social interaction, verbal and non-verbal communication skills, social-emotional reciprocity and challenging behavior.
White recently wrote a book titled "Autism and the Power of Music" that details tactics of how to help those with autism through music therapy. If you flip through the pages to the second chapter, the title reads "Music is a Place."
"It's a separate place that you go to, and anyone that thought about how they experienced music will understand," White said.
Classrooms typically include a musical setup of an iPad with a speaker, a keyboard and a djembe, an African percussion instrument. Students gather in a semicircle to facilitate more of a natural connection among their peers and interact by taking turns introducing themselves through a "hello song," expressing how they feel through a "feelings song" and a "goodbye song" to practice how to leave a conversation.
"Oftentimes we get a lot of 'peace out!' or 'see you later alligator!'" Conner said. "It really encourages that camaraderie between peers."
But this atmosphere is something they have only recently returned to.
For anyone who has experienced a Zoom meeting, it's easy to infer that music and group singing wouldn't exactly be synchronized.
With every unmuted slip-up during virtual quarantine classes, Conner reminded herself that it was important to realize that aesthetically pleasing music wasn't the goal, but the process of music-making itself.
And while a big portion of it is, the entire focus isn't just the music.
"Part of it's the fact that they get to talk about who they are and get validated for that. I'm convinced that we were able to do it as much as we were (virtually) because of that," White said.
The challenges included some positives like parents getting the opportunity to observe, while downsides included families without internet getting inadvertently cut off from the classroom. For those who could participate, it still left a lasting impression.
"My grandson has the opportunity to connect with others while learning important skills that he so desperately needs. He would be so isolated at this time without it," said the grandfather of one client who attended classes during quarantine. "It means the world to us!"
Regardless of the class mode or curriculum type, one thing that never varies is the rewarding results that come along with these unconventional music lessons.
"It was really quite a special moment to see," Conner said. "This is what we're doing. This is what this program is actually doing."
UNC Media Hub is a collection of students from the various concentrations in the Hussman School of Journalism and Media working together to create integrated and free multimedia packages covering stories from around North Carolina.