8 Best Convertible Chairs 2022
7 min read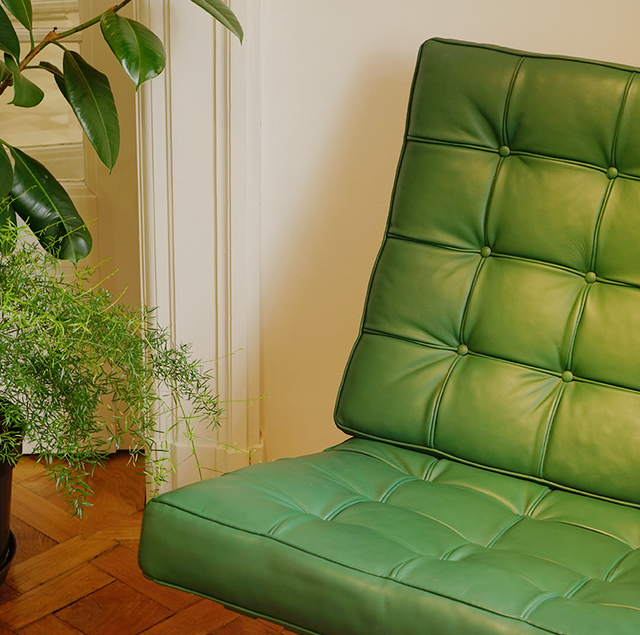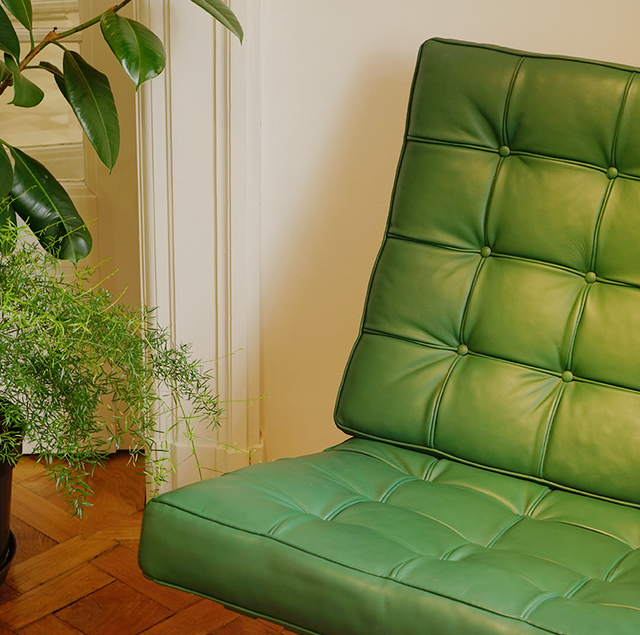 Unsplash
Almost everyone has slept on a friend's couch at least once in their adult life, and the experience is never, ever a fun one. It doesn't matter how young you are or how exhausted you felt—when you wake up in the morning after sleeping on a loveseat, you almost always wish there had been a little sumpn' sumpn' underneath you to give your achey-breaky back the TLC it needs.
If you're a good host and love inviting friends to crash at your ~crib~, chances are you own a less-than-stellar air mattress. While it's true that not all air mattresses are created equally (if you've ever woken up on a deflated blob of PVC, you understand the struggle), they can take up a significant amount of square footage—especially if you live in a teeny-tiny apartment or condo. Luckily, the furniture gods have blessed us with a solution to all of these problems: the convertible chair.
Sleeper chairs, as well as sleeper ottomans are functional pieces of furniture by day, and cozy, pullout beds by night. That's right, they kill two birds with one stone—and boy, do I love a home product that goes above and beyond. In case you're in the market for a brand new convertible chair, we put together a list of the eight best sleeper chairs and ottomans money can buy. And honestly? Most of them don't cost a lot of $$. That means you'll have more cash left over for wine when you invite your friends over for your next night in. You're welcome.
Advertisement – Continue Reading Below
Best Ottoman
Vonanda Ottoman Sleeper Chair Bed
Can withstand up to 600 pounds
Folds up small
180-day free trial
More expensive than some other options
Your mind will be *blown* when you see how tiny this bb becomes when it's fully folded up. In its smallest form, this sleeper chair is a compact ottoman, which can be used as a stool or side table. Unfold it with the backrest tilted upwards and you've got a lounger perfect for movie nights. Lay it entirely flat, and you've got a twin-sized bed in a pinch. (It also comes with the cute lil pillow that's pictured.)
Glowing review: This couldn't have been a better purchase. My husband and I have been looking for an ottoman that would help us use our love seat as a bed when we are watching movies at night so both of us could lay down but we wanted it to match our sofa set…omg it's perfect! It can be used as an ottoman and bed! … I'm so happy! Great quality as well.
Best Budget Pick
Your Zone Ultra Soft Suede Convertible Flip Chair
Affordable
Available in 12 colors
No assembly required
If you're looking for a place for friends to crash but don't have a ton of $$ to throw around, this is a great option. For under $75, this baby folds up and down so you can use it as a chair, lounger (pictured), or flat-lay bed. And because it folds up into itself, it's a major space saver if your space is a little low in the square-footage department. Not as into the lime green as I am? Fear not, it also comes in 11 other colors, from beige to fuschia.
Glowing review: Great size and they look amazing! No one will guess I got these from Wal-Mart. [They] fold out all the way to fit a 6 ft., 200 lb man!
Best Leather Pick
Vonanda Leather Ottoman Chair Bed
Adjusts to five angles
Features two side pockets
180-day free trial
Only sleeps one comfortably
Leather (or quality faux leather) can make anything look expensive, and this chair bed is no exception. Like, when I look at this piece, my brain thinks quadruple digits…not $350. Not only does it look luxe, but it's also super practical—the backrest can be adjusted to five different angles for the ultimate comfort, the footrest moves up and down depending on how you want your feet to hang, and you can fold it up nice 'n' tight into an ottoman when it's not in use. There are also two pockets on the side for holding remotes, snacks, or magazines (cough, issues of Cosmo, cough).
Best Color Options
Birch Lane Antoinette Convertible Chair
Comes in 117 colors
Extra wide
Super sturdy
This one's a bit of a splurge, but it's worth it. This is a piece you'll take with you from home to home that you can trust will hold up over the years. To the naked eye, it's a solid, double-wide armchair just begging to be snuggled up in. But pull it out and you've got a supportive, actually-comfy bed with a six-inch-thick mattress. One of the best parts of this chair is that you can get it in nearly every shade of the rainbow—but actually, it comes in 117 colors—so you can match it to any room in your house.
Glowing review: This chair fits wonderfully in our music room. We use the room for extra guests visiting, and have found air mattresses "just OK." Now we can treat a guest in a far more comfortable manner. As a chair, its width is wide enough for a person with a small pet to sit in … It's well-designed, sturdy, and we look forward to enjoying it for many years to come. Would highly recommend.
Best Splurge
West Elm Urban Chair and a Half Twin Sleeper
Layers of gel and memory foam
Easy to wash
Heat-wicking fabric
Okay, take a deep breath, because this baby might give you sticker shock if you're comparing it to some of the other options. But I wouldn't recommend a product that wasn't worth the price, pinky swear! A lot of attention went into both the sitting and sleeping aspects of this chair, so you're truly getting the best of both worlds when you pick one of these up.
The fabric was designed to wick away body heat, the cushions are zip-off for easy washing, and the pull-out mattress has a layer of gel and a layer of memory foam so it truly contours to your body. It also just looks super chic as an armchair? Like, you would never know there was a mattress under there, ya know what I'm saying?
Best Midcentury Modern Pick
Latitude Run Stanton Drew Convertible Chair
Easy assembly
Comes with matching throw pillows
Hidden legs
Color may fade with direct sunlight
If a midcentury-modern aesthetic is what you're after, this chair will be it for you. The clean lines keep it contemporary and the plush velvet gives it a little retro flair while also making it cozy as can be. Simply unzip the zippers located at the back and seat areas and you'll find hidden support legs that pop out to turn it into a full-blown bed. You can also use the two included throw pillows as to rest your sleepy head!
Glowing review: Absolutely perfect for a cute studio apartment. Took about 5 mins to assemble. Comfy and cute, even according to my very picky mother.
Best ~Angles~
Mdeam 3-in-1 Sleeper Chair
Two storage pockets
Adjusts to six angles
Hidden back supports
Only sleeps one comfortably
This lil chair knows alllll your angles—and it's affordable to boot. This sleeper chair goes from armchair to chaise lounge to bed in a snap, and the backrest alone adjusts to six different levels. It's also got hidden back supports to keep everything sturdy but still cute (and I love those pockets on the side!). If you're looking for a different color, your other options are dark grey and bright yellow, which really pops.
Glowing review: The real thing is the same as the advertised, there's no difference at all … Do not doubt its sturdiness, the shelf of this sofa is iron, so it is very strong.
Best Outdoor Option
Cambridge Casual Dunham Outdoor Daybed
Teak wood is weather resistant
Cushion fabric is resistant to sun fading
Easy to assemble
Not ideal for chilly winter weather
Is there anything better than taking a nap outside on a breezy weekend afternoon? Nope. (Okay, maybe taking a nap outside on a breezy weekend afternoon after boozy brunch.) This daybed is the ultimate place to catch those al fresco Zs, and adds a nice pop of rattan to any backyard setup. The armrests adjust so you can fold down one or both, depending on how ~relaxed~ you're looking to get, and the plush cushion is nice and thick to make sure that cute booty of yours is comfy.
Glowing review: I am very pleased with this daybed. Delivery was very quick and assembly was hassle-free. The sturdiness and quality of the piece is wonderful. Really love it!
How we chose the best sleeper chairs and ottomans
As you probably know, Cosmo's lifestyle team spends all day, every day scouring the internet, testing products, and reading reviews so we can bring you the type of high-quality content we'd want for ourselves (and our standards are preeeetty darn high, TBH).
It's also really important to us that each of our shopping articles adheres to the 15 Percent Pledge, and we try to make sure the products we feature are good for both you and our planet. If we wouldn't buy something for ourselves, we sure as heck won't recommend it to you—and we're always gonna keep it really, really real. Pinky swear.
This content is created and maintained by a third party, and imported onto this page to help users provide their email addresses. You may be able to find more information about this and similar content at piano.io
Advertisement – Continue Reading Below